Sidana Institute of Education
The Sidana Institute of Education, Amritsar was established in 2000. It is affiliated by Guru Nanak Dev University and is self-financed college. The college offered Bachelor of Education (B.Ed.), Post Graduate Diploma in Computer Application (PGDCA) courses. The college has been recognized by National Council for Teachers Education (NCTE).

Sidana Institute of Education aims to bring a marvelous change in the field of teacher education. Active, smart, well equipped teachers enriched with knowledge of all modern teaching techniques are going to be the product of Sidana Institute of Education. The objective of college is to develop an insight which equips the prospective teachers to tackle all situations and to increase their potential to meet all kinds of job requirements. Sidana Institute of Education is proud of its learned, experienced and devoted faculty. Our teaching methods are innovative and interactive. High quality pragmatic programs, seminars, workshops etc. are implemented for the all round development of students.
---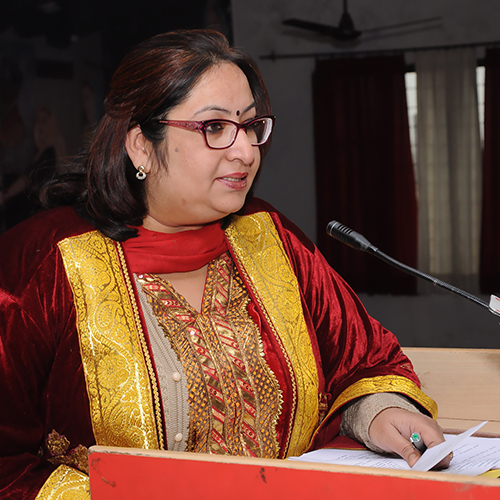 Dr. Jeewan Jyoti Sidana
All odds, all challenges and all handicaps of life can be overcome with strong determination, persistent hard work, insurmountable patience and unshakeable tenacity" It gives us immense pleasure to welcome you to Sidana Institute of Education, Amritsar and extend my best wishes for an enviable success in all your academic endeavors. I foresee Sidana Institute of Education growing fast in its academic endeavors through building academic linkages with various institutions of regional, national and international significance and networking in the sphere of academic outreach, exchange of ideas and thoughts among students and teachers, and intellectual interactions at large.
I visualize my institution to be borderless academic institution to produce teachers with a good mix of academic pursuits, backed by enviable track records in research, flexible study options, variety of academic competencies and skills. Sidana Institute of Education provides supportive campus environment, attractive location, impressive performance in placements and healthy socio-cultural life. A paradigm shift in the quest for knowledge generation, as also in its application and dissemination, our emphasis on the use of Information Communication and Technology will help to open new vistas of growth of knowledge and academic excellence. The SIE tradition happily brings together sound academic achievement with an extensive, vibrant co-curricular programme that includes sports and leadership training programmes. Our Mission is to inculcate the love of knowledge in students and, for this, we aim to develop the skills and demeanour of lifelong 'Learning', essential for making responsible global citizens
---