NEWS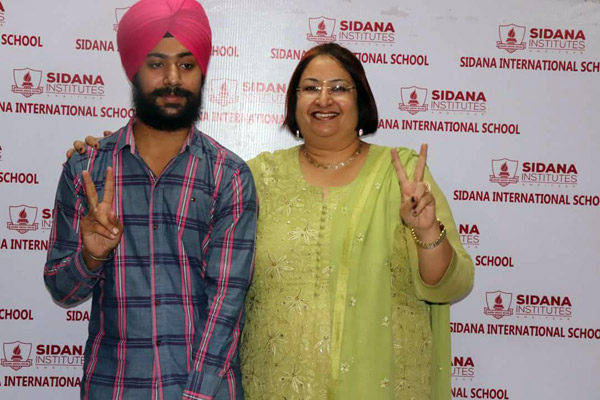 SIDANA student Harsimran Singh Grover cleared AIIMS 2018
Harsimran Singh Grover: AIR 272 has made SIDANA INTERNATIONAL SCHOOL proud by clearing the Entrance Examination of All India Institutes of Medical Sciences (AIIMS). "I used to study for long hours. I devoted 8 hours daily for self-study-said Harsimran.

Dr. Jeewan Jyoti Sidana ,Manager Sidana International School said- Harsimran has brought laurels to all by scoring this Rank – AIR 272 in AIIMS and AIR-214 in NEET.

Principal S.Amarjit Singh congratulated him on this glorious achievement. Harsimran Singh Grover attributes his success to the hard work and dedication of his teachers. Here it is worth to mention that he topped Amritsar District in NEET EXAM with AIR-214. Sidana International School have set new milestone because 7 students of this school cleared NEET and 12 scored more than 90% marks in 10+2 CBSE Board Exams.

" Harsimran has made us really proud and he will be a renowned doctor" said Prof. M.P Sidana, President-Sidana International School.

Here it is worth to mention that Sidana has made a Hatric by giving students to AIIMS for the last 3 years. These include Anmol Waris, Nishanbir Singh and this year Harsimran singh grover who have given this pride to the school.
---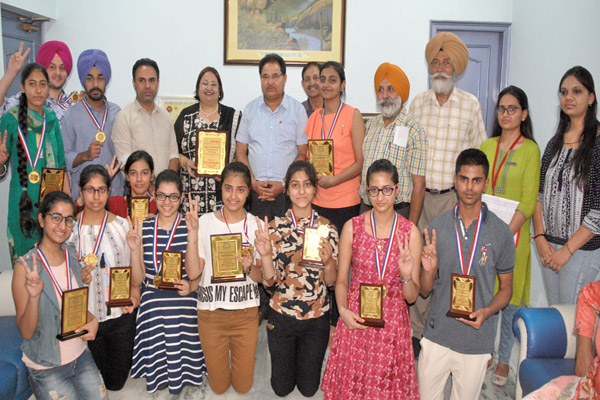 Sh OP Soni, Education Minister Punjab honored the toppers of Sidana International School CBSE-2018. Harsimran Kaur, who scored 96.2% marks and topped the school, along with her parents visited the school and was awarded with a Trophy and Medal for her outstanding performance. Her dream of becoming a successful doctor will be realised soon. Arshnoor Batra, who scored 94.4% marks and topped Non-Medical stream, was honoured with her parents. Saba Bhatia, who stood third in school with 94% marks is an outstanding classical dancer also.

The toppers in a jubilant mood with their parents and fellow students, gave credit to the hard work of their teachers for their success. Here, it is worth to mention that 12 students of this school scored more than 90% marks. These include Harsimran Kaur, Arshnoor Batra, Saba Bhatia, Gurleen Kaur, Snehdeep Kaur, Gorisha, Harsimran Singh Grover, Pahulpreet Kaur, Samridhi Kalia, Tanisha Garg,Tanish Aggarwal ,Khushi Bhatia, Rajpartap Singh and Gurkirat Singh Bhinder. 43 students of this school scored more than 80% marks.
---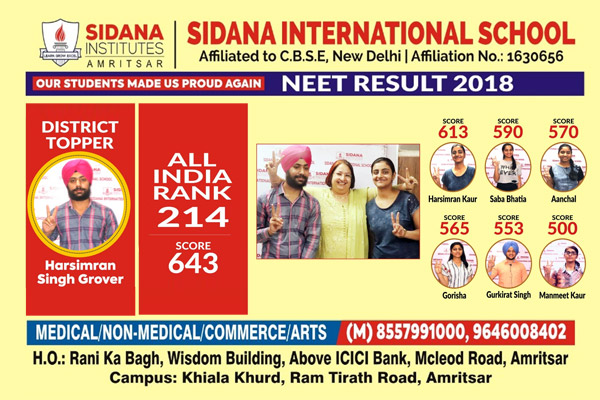 Harsimran Singh Grover, a student of Sidana International School Topper District with AIR-214 in NEET 2018. Sidana International School campus was abuzz with happiness and merriment on the glorious achievement of its students. Harsimran Singh Grover scored 643 out of 720, Harsimran (613),Saba Bhatia (590),Aanchal (570),Gorisha (565),Gurkirat Singh Bhinder (553) & Manmeet Kaur scored (500) and made the school Proud of their achievements.
---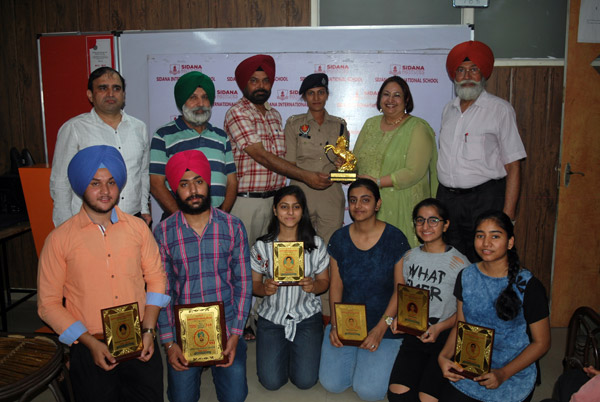 It was a day filled with honour and pride for Sidana International School when 7 gems of this institution Harsimran Singh Grover, Harsimran kaur, Sabha Bhatia , Aanchal , Gourisha , Gurkeerat Singh bhindar,and Manmeet Kaur were honoured with their parents by School Authorities Harsimran Singh Grover had topped in Amritsar District with AIR-214 and scored 643 marks followed by harsimran Kaur.

The students were honoured by Dr. SIMRAT KAUR , IPS, who herself is a doctor by qualification and police officer by profession. She honoured the students with trophies S.Jasbir Singh .district guidance and counselling officer presided over the function Dr. Ashwani Kumar, Associate Professor Govt. Medical College was special guest on this occasion.
---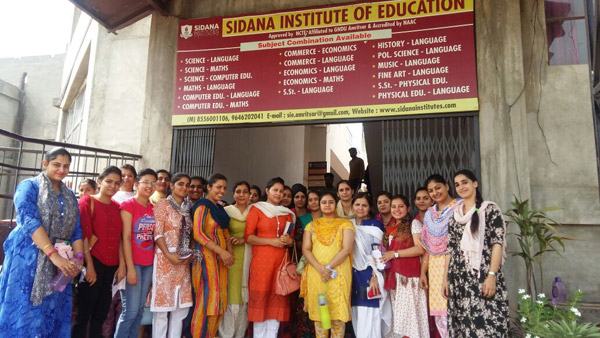 SIDANA STUDENTS OF B.ED SEMESTER 3RD OUTSHINE IN GNDU RESULT
Students of Sidana Institute of Education of B.Ed Semester III rd performed brilliantly in their university examinations. Nishta stood first by scoring 91.75% marks while Meera Nayyar got second position with 90.5% scores . Mandeep Singh scored 90% marks and got 3rd position 66% students scored more than 80% marks while 21% scored more than 70% scores.
---