Education Access Australia (EAA), is an educational provider specialising in Australian vocational education and located in the heart of Melbourne. The college is a sister concern of The Imperial College of Australia based in Melbourne and Impeiral College of New Zealand based in Auckland, New Zealand. The group is committed to providing quality vocational education and enabling students to advance their career by reaching their educational goals.

EAA was established in 2002 and since that time has developed range of courses in Hospitality, Information Technology, Automotive Technology, Business, Management, Finance, Accounting, Fabrication Trade, and English. Our aim is to provide an excellent teaching and learning environment, along with facilities to deliver quality education under the Australian Qualifications Framework (AQF). We understand the aspirations and goals of our students. Our philosophy is focused on making sure that our students are able to achieve their goals by providing quality education. We caters to the needs of students, both domestic, international and overseas, in the vocational education, and our primary goal is to provide the highest quality education to our students and support them in achieving academic excellence.
Memorandum of Understanding (MOU) Between
Sidana Institutes & The Imperial College Of Australia
Well equipped learning environment
We realise the importance of excellence in the learning environment to help student pick up skills rapidly. To this end, we have put together the latest in training techniques. All our courses, as well as our services, are student focused. Every course conducted by our colleges represents unmatched value for your investment (time and money).
Access to Library Resources
A library is the storehouse of knowledge and we hold the latest books, magazines and journals through which our students can keep themselves abreast with the latest trends in the industry.
Dedicated Student-Staff Recreation Area
To optimise interaction and make our students and staff more comfortable with each other, we have a dedicated informal recreational area.
Well-furnished Practical Labs
These labs help students to become more professional by providing intensive hands-on expertise, making them more competitive in the employment market.
Well-equipped Computer Lab
With easy access, our well equipped computer lab assists students in the completion of their assignments and research in a more meaningful manner.
Industry Placement Facilities
We are committed to make every effort in finding job placements for our students in their respective industry.
Study in Melbourne
Melbourne is one of the most livable and vibrant cities of Australia. The city has been judged as most livable by international panels several times. The City's multicultural population is a warm and welcoming sign for new students. Melbourne's Central Business District (CBD) is well connected to the suburbs by public transport network of buses, trains and trams. Melbourne, a relatively modern city, never sits still. A fascinating mixture of Victorian and contemporary architecture ensures the skyline is constantly changing. Melbournians embrace sports, fashion and festivals. Melbourne, the sporting capital of Australia hosts events such as Australian Open Tennis, Australian Formula One Grand Prix, the Australian Football League Grand Final, the Spring Racing Carnival and major international cricket tournaments. Melbourne is also one of the Australia's leading business and education centre with ample opportunities, making it a great place to _nd a job after completing studies. Melbourne's safe and friendly environment, affordable housing and cost of living make it one of the most favoured destination for international students. Visit the website of Melbourne www.melbourne.vic.gov.au for further information.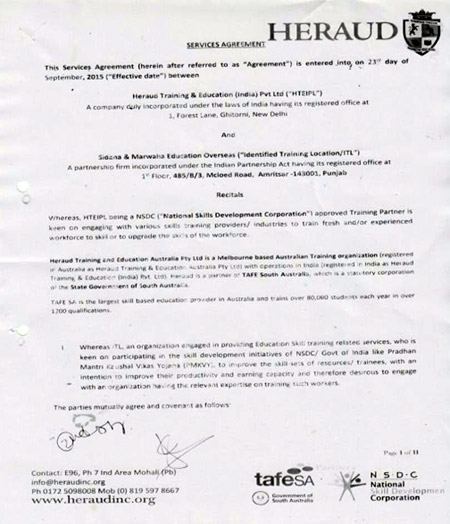 TAFE (South Australia)
Established in 1971, TAFE SA is the largest provider of vocational education and training (VET) in South Australia delivering more than 1000 courses to an average of 80,000 students per year at our campuses across the State. TAFE SA offers training across more than 80 activity and industry-related areas with a wide range of quality courses and flexible study options to suit your personal needs.
Quality Assurance
TAFE SA's status as a Registered Training Organisation (RTO) is managed through the National VET Regulator, which is the Australian Skills Quality Authority (ASQA ). It is a requirement of registration with ASQA that TAFE SA demonstrates ongoing compliance with all requirements of the VET Quality Framework. This is assessed by ASQA though participation in periodical audit activity.
Memorandum of understanding Between HERAUD and Sidana & Marwaha Education Overseas.